---
According to Wikipedia "Shopify is a Canadian e-commerce company headquartered in Ottawa, Ontario, that develops computer software for online stores and retail point-of-sale systems". "Shopify was founded in 2004, and was initially based on earlier software written by its founders for their online snowboard store. The company reports that it has 200,000 merchants using its platform, with total gross merchandise volume exceeding $10 billion."
I believe having a reliable and extremely customizable eCommerce Platform like Shopify to set up and manage your online store is the core that you want to build your business success upon, but having the right segmentation and email marketing tool is what it takes to survive in eCommerce.
It's becoming increasingly important to personalize your shopping experience for each of your customers to strengthen your brand image and increase your customer loyalty. That's why sending the right email marketing to the right shopper is crucial in the coming years. That's where Revamp CRM can make a different.
CRM tool for your Shopify Store:
Real-time Updates: Real-time sync with your customers, orders, products and collections.
360 Contact Profile: Have a 360 Contact Profile for each one of your contacts, including your Contact's Tickets, Order History, Notes and even Email History.
Keep your Data Organized: Use our powerful Tags and Custom Fields to keep your data organized.
Slice & Dice Your Data: Export all or part of your Contacts to MailChimp Lists or CSV.
Segmentation tool for your Shopify Store:

Built for Shopify Segmentation: Easily segment your customers based on the last time they bought, how many times they bought, how much they have spent, and much more.
Real-time Sync: The Segments you create will remain up to date in real-time so you're always looking at the right set of customers.
eComemrce Filters Built for Shopify: Use our intuitive Powerful eCommerce Filters and set criteria to each of your Segments and Lists.
Emal Marketing tool for your Shopify Store:

Pre-built Templates: Attractive email templates to help you save your time when sending to your abandoned carts or top customers.
eCommerce Best Practices: Pre-built Email Marketing Automation through out your customers' Lifecycle.
(Welcome Series, Order Follow-up, Winback inactive customers and more)
Date-based Marketing Automation: A Date-based Automation is based on a specific day or event like customer's birthday or anniversary. You can set all different sequence of actions, whether it's sending email, create task, add to list or change score we will do it for you.
Standard Marketing Automation: A standard Automation is based on a series of actions – whether it's send email, create task, add to list or change score – which you can manage by setting time delays between these actions.
Abandoned Cart Recovery – Cross-Sell & Up-Sell Email – Product Recommendations
Email Personalization: Our built-in shortcodes to help you personalize each email to increase your email marketing ROI, without having to know code!
Shopify Store Reports and Insights: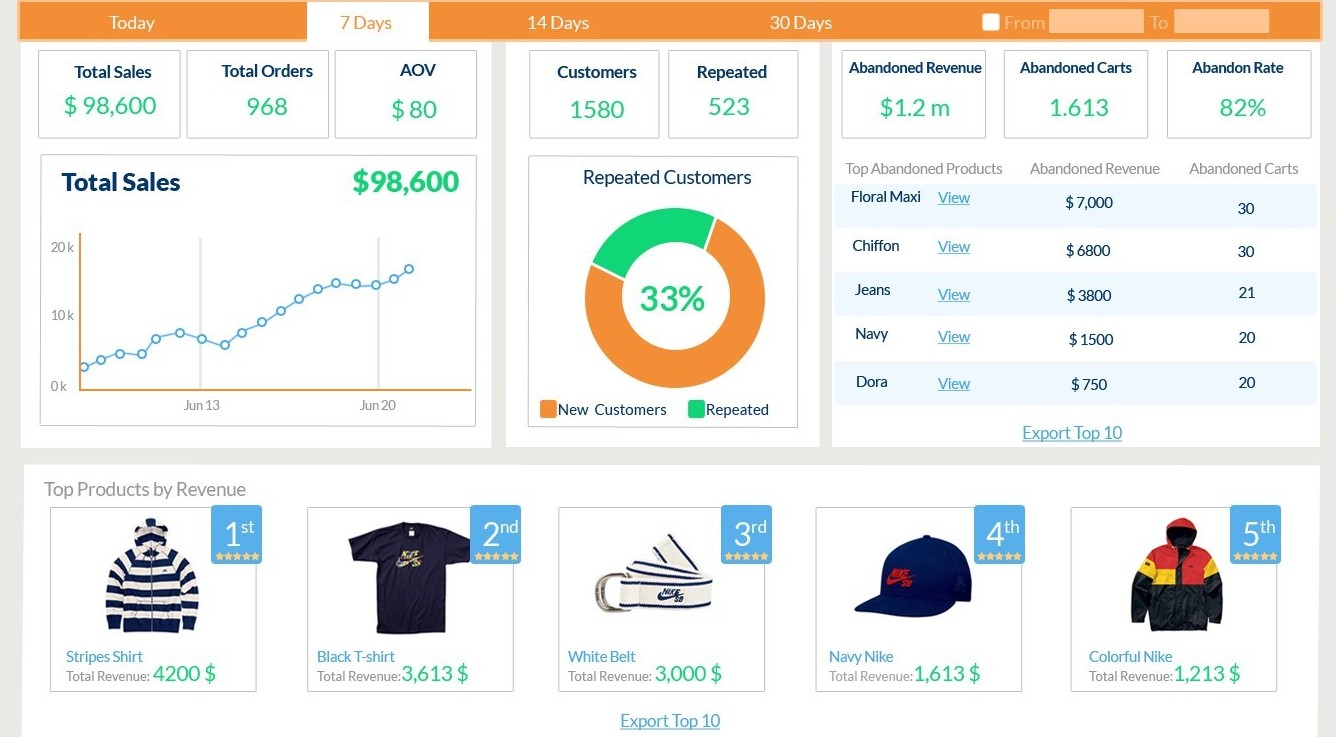 Abandoned Cart Insights: Have the best available analytics on your abandoned cart rate, value and products.
Store Dashboard: Evaluate performance of your products and understand your orders value, AOV and other metrics to help you make the best decisions for your business.