MailChimp Alternative with Unlimited Contacts and Deals
Revamp CRM is a great MailChimp Alternative and it comes with a FREE plan. Our CRM enables you to import your unlimited Contacts from more than 80 different apps and tools. Revamp CRM is a full featured Sales and eCommerce CRM for businesses of all sizes. Track Activities, Deals and Orders. Manage, Segment and Email your Customers and Leads. Create workflows and do much more.
[supsystic-price-table id=46]
Contacts Management
Amidst all the MailChimp Alternative It allows a complete 360-degree view of the customer's journey (from nurturing to purchase) under one system. To add to this, it's affordability ensures that any business can opt for this product Actionable Contacts View with a smart filter to help you slice and dice your contacts.
| | MailChimp  | Revamp CRM |
| --- | --- | --- |
| Unlimited records | ✔ | ✔ |
| Email marketing | – | ✔ |
| Custom fields | ✔ | ✔ |
| Tasks & Calendar | ✔ | ✔ |
Revamp CRM offers easy lead management with its efficient features such as different contact stages, lead scoring based on lead behavior and ability to add custom fields for expanding your fields, get custom leader boards of various reps and more such functionalities. besides the Chrome Lead Clipper which allows you to add potential customers to your CRM directly.
| | MailChimp  | Revamp CRM |
| --- | --- | --- |
| Lead Clipper | – | ✔ |
| Gmail Extension | – | ✔ |
| Contact stages | ✔ | ✔ |
| Lead Score | – | ✔ |
Visual Sales pipeline
Revamp CRM offers a visual & drag and drop sales pipelines, where MailChimp Alternative lacks it. Revamp CRM also offers multi-pipelines support to support your different sales processes for different products and service. However, MailChimp Alternative doesn't offer that visual presentation. Both offer decent deals management and reports. 
Deals Management & Reports
Revamp CRM's Sales Follow up is more competitive when compared to MailChimp Alternative as it offers features such as, Dynamic Segments. Deals to customize your view aside from the quick actions you can do such as Add Task, Send Email, Edit Deal and more actions without leaving the pipeline.
| | MailChimp  | Revamp CRM |
| --- | --- | --- |
| Visual Sales pipeline | – | ✔ |
| Sales Reports | ✔ | ✔ |
| Dashboards | ✔ | ✔ |
| Sales Funnel | – | ✔ |
| Multiple Pipelines | – | ✔ |
| Multiple Currency | ✔ | ✔ |
| User roles | ✔ | ✔ |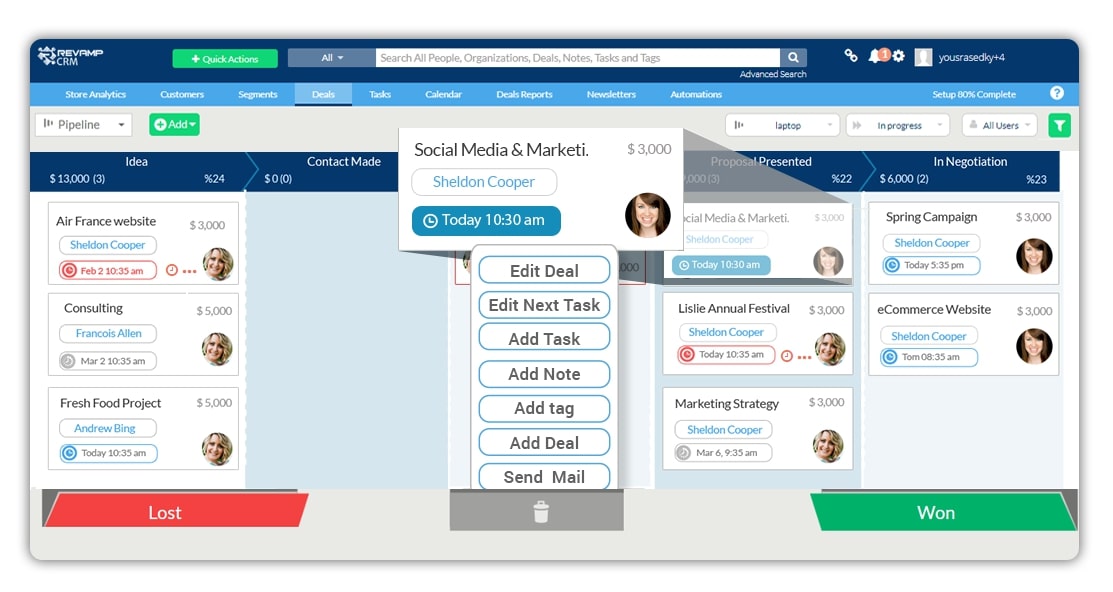 Email integrations 
Revamp CRM tightly integrates with Gmail with a dedicated extension, but MailChimp Alternative doesn't offer such extension. Both Revamp CRM and MailChimp Alternative can send email directly from the CRM. You can also use your any popular email client, and keep a copy of of your sent and received emails in both CRMs. Emails could be sent or forwarded (and attached) to a specific contact, deal or even converted to a task. 
Email Marketing & Automation
This is where Revamp CRM shines over MailChimp Alternative with its email marketing capabilities that don't exist in MailChimp Alternative. You can send or Schedule Newsletters with our easy to use email builder. Use Dynamic tags to personalize your emails. Be an expert in Email Marketing Automation, and setup drip email campaigns to nurture your leads. Monitor Email Performance with Insightful metrics on open, click, bounced, unsubscribed rate and more.
| | MailChimp  | Revamp CRM |
| --- | --- | --- |
| Email Marketing Automation | – | ✔ |
| Email templates | – | ✔ |
| Email Campaigns | – | ✔ |
| Email Personalization | – | ✔ |
| Email Tracking | – | ✔ |
| Email integration | ✔ | ✔ |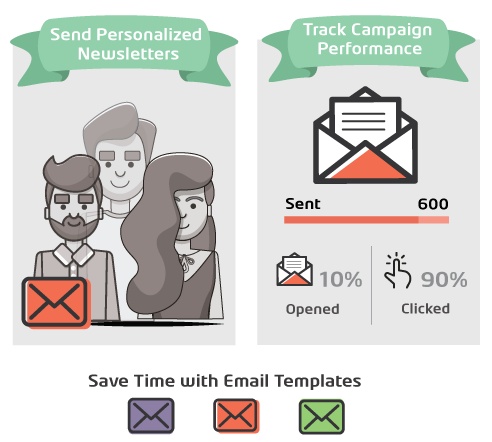 Intelligent Automated Workflows 
Eliminate your manual day to day tasks and focus on closing more deals by using workflow automation from Revamp CRM. Nurture relationships with your loyal customers, let your CRM automte your manual tasks for you & your sales team to get more business closures. 
eCommerce
Revamp CRM uniquely offers tight integration with Shopify, BigCommerce and WooCommerce, where all customers, orders, products and categories are synced in real-time to Revamp CRM. Enabling you to segment customers based on their shopping behaviour. Therefore, have better follow-up either through your team members or via automted email campaigns. Revamp CRM also offres detailed Store Analytics for a precise overview of all of your sales, sales channels, products, customers and Ad Campaigns. MailChimp Alternative doesn't offer that at all.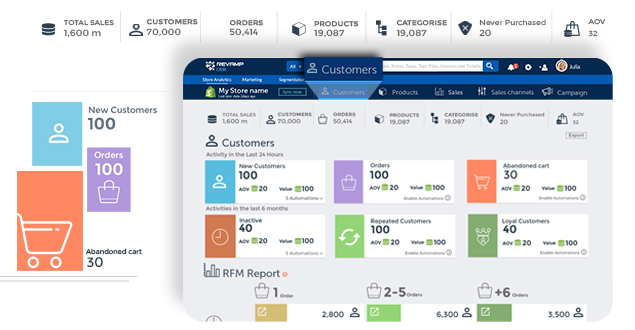 Mobile & Productivity tools
Revamp CRM & MailChimp Alternative offer mobile app for Android & IOS,  makes you always stay on top of your sales pipeline. All changes are instantly synced to Revamp CRM web app. You can also view your contacts and their details in offline mode (not supported in MailChimp Alternative). It helps you focus on the right contacts and gives you more control over your sales results.
Integrations & API
Above all, you can connect 80+ of your Favorite Apps to Revamp CRM. As a result this makes running your business even easier and integrate Revamp CRM with your apps from eCommerce, Live Chat, Web Forms, Invoicing, Payments, Scheduling, Productivity tools and more. You can check all available integrations here. MailChimp Alternative offers integrations with popular apps. Revamp CRM & MailChimp Alternative offers an extensive API library for your needs.
---
Award winning CRM for sales, marketing, and eCommerce with more than one award as FinancesOnline Expert's Choice Award as well as the Great User Experience Award compatible for all business sizes. It allows users to create workflows, manage customers and leads and track activities, deals, and orders.
Revamp CRM is a great MailChimp Alternativealternative, it also comes with a FREE plan and 14 days of trial. With no credit card required.
Our MailChimp Alternative made for small business to save you money and time of training people.Revamp CRM gives you access to great support team. But you might not even need it.Try it here today for FREE
---