Developing a personal brand is essential in eCommerce business. It's the new way of attracting new people to your online store by becoming an online star. Your personal brand is how you want the world to see you and how they would be able to describe you. So in order to build and awesome brand follow these simple tips. eCommerce Branding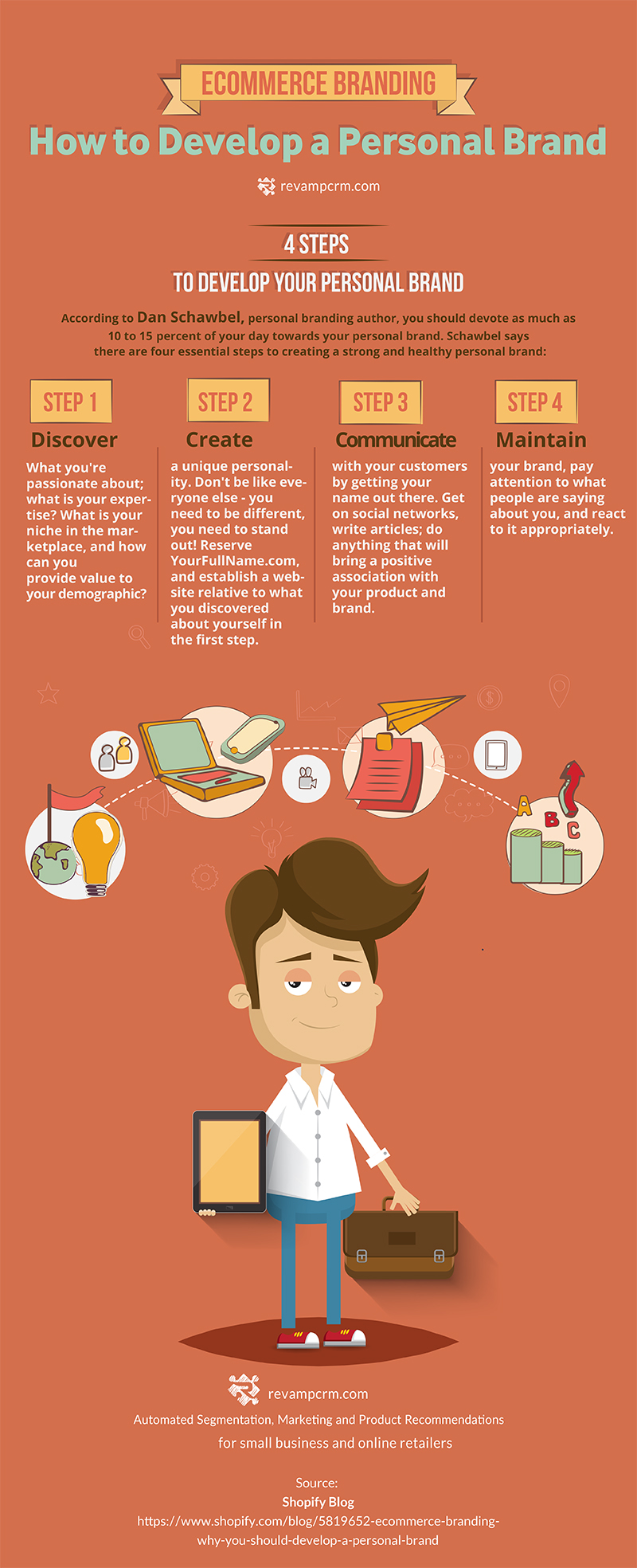 Four Steps to Develop your Personal Brand
According to Dan Schawbel, personal branding author, you should devote as much as 10 to 15 percent of your day towards your personal brand. Schawbel says there are four essential steps to creating a strong and healthy personal brand: 
Discover

 

what you're passionate about; what is your expertise? What is your niche in the marketplace, and how can you provide value to your demographic?
Create

a unique personality to attract an audience. Don't be like everyone else – you need to be different, you need to stand out! Reserve YourFullName.com, and establish a website relative to what you discovered about yourself in the first step. Also, go to know and claim your name across the entire internet. Do it now, don't wait. 

Communicate

 with your customers by getting your name out there. Get on social networks, write articles; do anything that will bring a positive association with your product and brand. 

Maintain

 your brand, pay attention to what people are saying about you, and react to it appropriately.

Do you know that 40% of worldwide internet users have bought products/goods online from an eCommerce business or eCommerce store?
People are increasingly looking to shop online for an easier customer experience. And, they're even shopping from the smaller screen, because of better mobile networks and bigger mobile sizes.
Still not convinced about the small business opportunity that a digital marketing strategy presents?
Shopify Blog: https://www.shopify.com/blog/5819652-ecommerce-branding-why-you-should-develop-a-personal-brand
Related Post : https://blog.revampcrm.com/8-unique-ideas-to-boost-foot-traffic-to-your-retail-store/