Why are your first 100 customers so special? The first 100 teach you how to grow. They test your flexibility, help you adapt to a better strategy and give insight about what future customers might want. After you sell to 100 customers, you'll have a pretty good idea of whether you can be successful. Thus, you should treat your first 100 users as more of a learning curve than a revenue engine. Here are some powerful tactics to land your first 100 customers, and lay the groundwork for your next 100,000.
Start with Your Existing Network
The most accessible network around you is that of your friends and family. When looking for customers to start with, start with the people you know and the people they know. These are your strongest network. You can also utilize the networks of any investors in your company or customers from another business of yours who would be interested in the product. It's also extremely important to ask people to introduce you to someone in their network that might be interested in your offering.
Focus on Email
Email is 40 times more effective at acquiring new clients than either Facebook or Twitter. It gives you the ability to bring a visitor back to your site more than
any social network
does. Utilize this fact and get email sign ups as much as you can. Here at Revamp CRM we understand the impact of
email marketing
, thus, our CRM helps you set up and automate the most effective marketing emails for stronger customer acquisition efforts.
Start A Blog
If you don't know where to start, you can always start here. The most loyal blog readers are the most likely to be customers. These are an easy catch, in fact. Blogs also allow you to develop relationships with your target audience and with people in your market. This helps you expand your existing network. It also offers you the chance to pitch your solution and receive immediate and substantial feedback in an unbiased way. Think of it as a market research tool, a marketing tool and a networking tool. Having an active blog could help you establish yourself as a thought leader as well as increase your online searchability. There are important strategies to remember when using blogs:
Guest Posts Build relationships with top bloggers and have them write special posts for your blog
Consistency Post useful content and stay consistent
One piece of the right content This is by far the most important strategy. Sometimes one piece is all you need rather than crowding your page and overwhelming readers. This one piece could be the same one you share in your emails, on social media and on the blog.
Increasing your blog's online traffic opens up a door for you to find your first few customers.
Give Something Away
If your product is more tangible, you can create a giveaway. This is essential as it will be the item that people receive in exchange for their email address which you then can use for email marketing. Just be careful, This is a great opportunity to let people test your manufacturing qualities. So you can't give away something that could be reflected to your brand as "Cheap" or "Poor". What exactly should you be giving away? It depends on what you're looking to promote. EBooks or video courses are always some of the go to giveaways that you can tailor to focus on promoting something through. You can create a smaller version of your products as a "Tester" or You can look at what other sellers in your niche are giving away.
Utilize influencers
Who are the people most likely either to buy from you or send you good referrals? When you're in the earliest stages of your startup's growth, one of the best things you can do is to reach out to people in your industry who are both highly-regarded and who might be potential users of your product. Capturing the effect of these influencers is crucial for your business. You'll have the opportunity to acquire these experts as early-stage users and to have them recommend your product to their followers and customers.
Cold calling/emailing
You can't stay within your circle of networks forever. Sooner or later you have to approach strangers as potential customers. One advice we can give you is this: start with someone with whom you have a mutual contact.
Social Media
Want to know how important social media is for your business? The following graph illustrates the average monthly recurring revenue generated by social media marketing for startups.

Identify Sales Funnel
This might seem difficult to do when you're just starting out. However, it can become clearer by the end of your first 100 customers. When you understand where customers are concentrated, you can better target them, reach out to the most important segments and thus gain even more customers.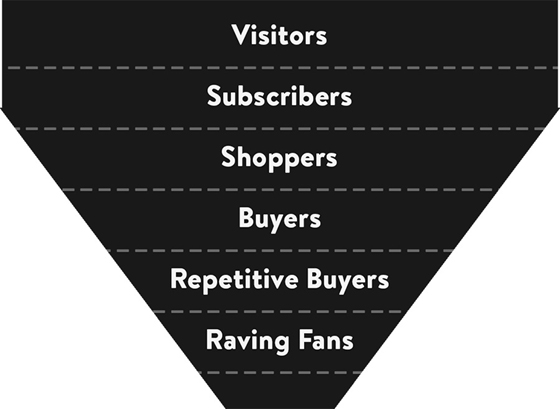 It's also important to create your own funnel. The funnel doesn't merely happen to you. You create the funnel yourself by developing systems, leads, email captures, mailing lists, marketing automation, and other techniques.
Customer Profiles
Before you reach out to a customer, make sure you know them inside out. Knowing your potential customer is a necessary first step in gaining customers. Create a customer persona where you develop a list of demographic and psychographic features. When you understand your customers, you'll be much better at reaching them. Revamp CRM software automates this step for you and ensures you are targeting the right customers. You can further improve this point by identifying your 10 best customers. Identify the core characteristics of your 10 best customers and create a mini profile for each. These profiles should outline their defining characteristics and their shared characteristics. This also helps you better understand your audience and how to target them.
Based on all this, here are some measures you should take.
On the website
A "subscribe" button.
This helps turn visitors into leads. The subscription form should prompt visitors to submit their name, number and email in addition to any other info you might need for your marketing efforts.
Social Media Links
Blog Link
Selling
The most obvious way to get your first few customers would be to sell to them.
Sell Within Your Network
Who do you know personally who would benefit from your product?
Sell Outside Your Network
Start a cold outreach campaign through the phone or email.
Hire a Salesperson
Look for a salesperson with traits such as high tolerance for rejection, excellent communication skills and an entrepreneurial skill rather than one with an impressive resume.
Ideas to get contacts
Who are your personal friends and their friends?
What about your school connections? Brainstorm a list of classmates, teachers, club members and so forth.
Who are your business connections? These include former employers, employees and customers.
Who are the tradespeople you know? Include folks like your lawyer, pharmacist, doctor, dentist, plumber, insurance agent, hairstylist, mechanic and even your babysitter or nanny.
Who are your neighbors-both past and present?
Who do you know through your sports and hobbies, such as hunting, fishing, running and golf?
Who are the people you know because of your home? These contacts include your mortgage lender, real estate agent, builder and so forth.
Who are the contacts you have through you and your spouse's families?
How do you reach those contacts?
Send a personal letter and follow up with a phone call a week to 10 days later.In this letter, announce your new business. Offer a free consultation or a special discount, something to create interest and excitement in what you're doing. Perhaps you could offer to pay a fee to those contacts who send you referrals.
Use the telephone.Call some folks to "catch up." Find out what they're doing and then share about your business.
Set up breakfast, lunch or coffee meetings. Set it up as a "feedback session" where you present your product or service in a low-key manner as a way to solicit feedback from the person. At the end of the meeting, ask the person for referrals to people who might benefit from your offering.
Once you've got your first 100 customers, responsiveness is key. Show them how important they are to your company and how much their feedback is valued and they'll play a major part in driving future growth for you.