Running a successful unique e-commerce store can be very rewarding, yet challenging at the same time. And, as expected, within these great challenges lie great opportunities. Shopify online retailers
As more and more consumers become savvy online shoppers, their expectations of the way you're going to treat them and your email marketing campaigns are really high. That's why it's very important that you spend the time to know them better, learn about their needs and their shopping behavior/patterns. This will drastically increase the trust between you and your customers, hence increase retention rate and reduce abandoned carts. Shopify online retailers
Challenge 1:
Turn 'anonymous shopper #45620' to 'Melissa, likes dogs and dark chocolate'
Our Solution:
Get a complete picture of every contact with our dynamic contact profile
Revamp CRM provides you with all of the information you need, when you need it. Our dynamic contact profile helps you to get a complete picture of every contact also you can view the orders linked to the contact profile, this will give you valuable context when you want to send campaigns or set workflows. So you can build a stronger relationship with your shoppers and increase customer revenue.
---
Challenge 2:
Contacts are all mixed up and you can't send the right emails to the right clients
Our Solution:
Import your contacts in a minute and enjoy our immediate segmentation based on actual shopping, website, and email behavior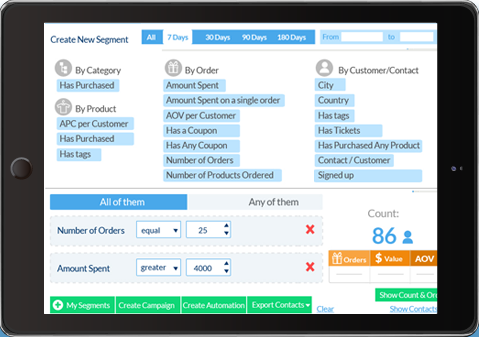 Our segmenting tool lets you easily create lists from segmenting your contacts by purchase activity or geography to sending tailored cross-sell campaigns to customers who have bought one product and not another. Even better, you can send those segments to your email marketing tool, and unify your messages.
---
Challenge 3:
Your email marketing tool can't talk to your store customers

Our Solution:
Two way sync with your email marketing tool to create lists of your customers segmented by category, product, order, country and much more

Our powerful set of pre-built campaigns will be associated with the perfect segment automatically just after you finish connecting your store to RevampCRM account. You can start sending pre-built Campaigns such as Abandoned Carts, Inactive Customers and more in just minutes.
---
Challenge 4:
There's too much in your plate and you waste efforts on repetitive tasks

Our Solution:
Our Workflows allow you to set off a customized sequence of actions whether it's welcoming customers or after sales follow up, we will do the work for you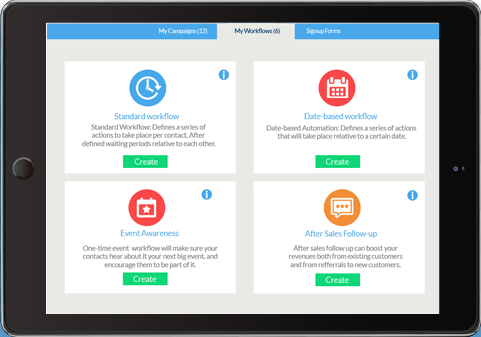 RevampCRM gives you the most amazing feature of all, pre-built Workflow templates. A complete rebuild focusing on a single interface for managing multiple emails and actions simplistic and robust workflows for several automation scenarios, and advanced send-time management. Whether it's Welcoming new customers or after sales follow up workflow, we will do the work for you.
---
Challenge 5:
Growing an e-commerce business successfully is like planting a tree – it takes a lot of TIME
Our Solution:
You can connect to the apps you already use. You will save more time and get a streamlined workflow